It's no wonder how Instagram- a mere digital photo and video album became an important social media marketing platform. Launched in 2010 by Kevin Systrom, Instagram has become an important element in business promotion for today's marketers.
With 1.2 billion active users spending 30 minutes of their time per day here it captivates almost all the population of the world. Most Instagram users are young gens, with more than 90 % being under 35. And, this is what the majority of the businessmen are focusing on today.
Instagram comes with various features like stories, reels, live videos, IGTV, hashtags, paid promotions, and DMs. And entrepreneurs can apply these best strategies that work the best for the promotion and engagement of their brand.
Thus, it's necessary to follow some important strategies for Instagram Marketing.
The Instagram Marketing Strategies are:
Design an attractive Instagram profile & bio- Business is always about creating a first-hand impression and that's why make sure that your Instagram profile is appealing. It should convey to your audience who you are, why you are here, and what image you are portraying to them.
Optimizing your business profile bio in short crispy words. And this is the first step and a basic factor to compel your customers to follow your account.
A proper Instagram bio must describe who you are, what you do, a call-to-action to follow on Facebook, and if available a link to your website.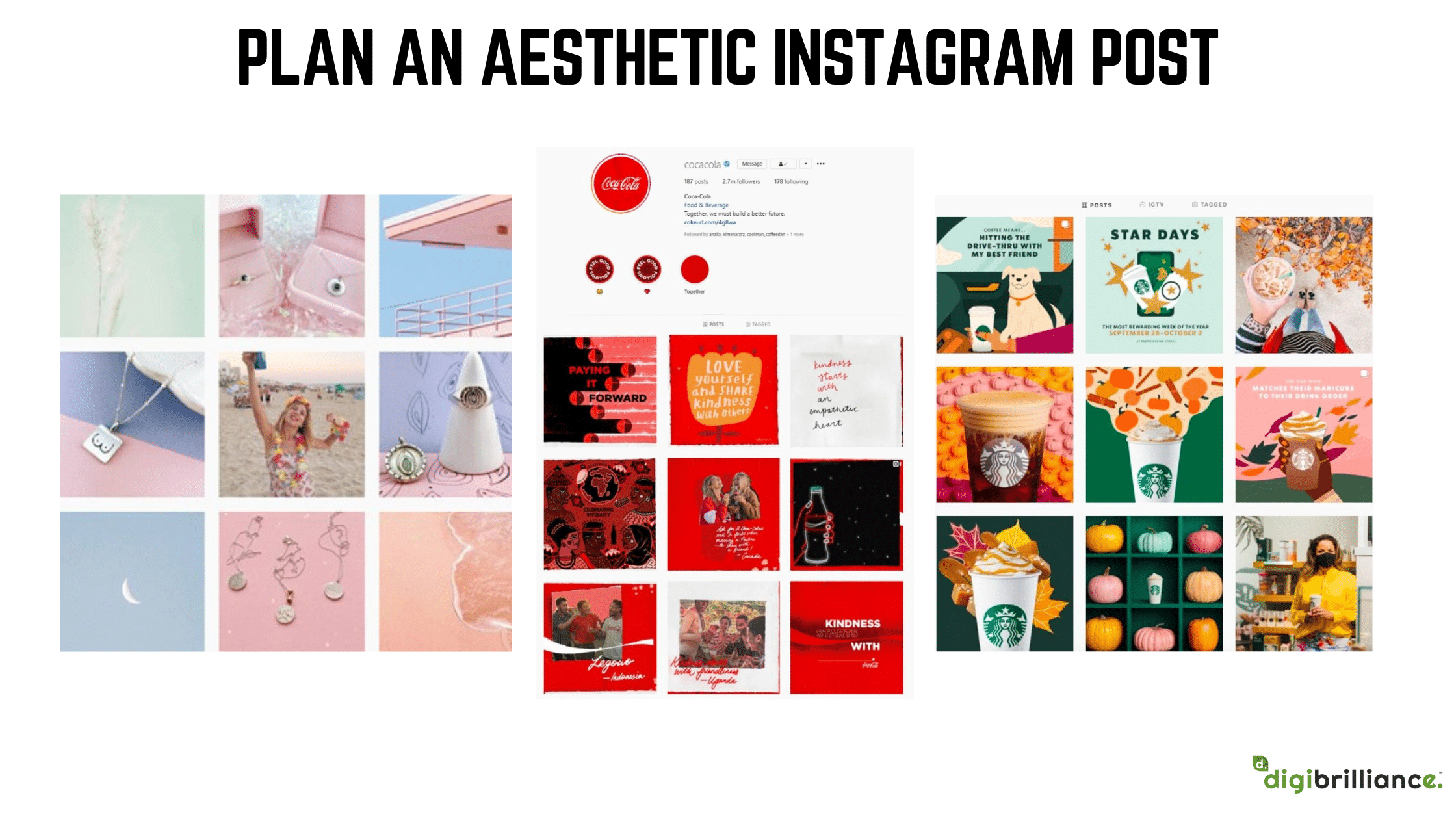 Plan an aesthetic Instagram post –  Always try to create an aesthetic Instagram layout. It decides whether your follower will stick around or repel.
The color palette, style, and well-balanced vibe on your Instagram posts add to your Instagram aesthetic. A well-maintained constant aesthetic will deliver your brand's message, nature, and brand value.
Focusing on the color and editing part is the main priority here to make a visual appeal to your audience. As in online marketing, product image forms an important factor among the buyers to make a buying decision.
Get creative with the captions- A caption with a punch of humor goes a long way in pulling your audience. So play with your captions in the best possible imaginary way. It is one of the decisive factors to gain followers for your Instagram Business Account.
Captions with a length of 10 words added with carousels enhance the engagement rate on Instagram.
(Sources: Survey on Socialinsider)
Pay attention to the hashtag features of Instagram-  The Instagram world is all about utilizing the right hashtags on your posts. Hashtags allow users to find the content that they are searching for. Thus, well-thought-out hashtags are an indispensable part of Instagram for Business.
Below are some best practices to follow while using hashtags-
Hashtags counting up to 30 are allowed for Instagram feed posts either in the caption or in the comment section. Hashtags exceeding 30 don't pop up in the search result.
For a limited purpose go with 2-8 hashtags.
Instagram stories take up to 3 hashtags.
IGTV incorporates up to 30 hashtags.
It's good to go for the most searched and popular hashtags.
For your brands create branded hashtags to promote your business.
To boost your brand in a specific area use locality-based hashtags.
          Remember these best practices as hashtags are the way or the right address for
          your followers to discover and grab their attention.
Advertise with Instagram Stories: Instagram stories are engrossing and have become one of the most popular attributes of Instagram.
It allows many features in it like hashtags, GIFs, mentioning people, adding music, etc.
Through these features, you can take your audience and let them have a sneak peek behind the scene, and know the opinions of your audience through audience polls. The swipe-up option on the stories will land them to your product landing page. And also to more information pages.
Promote connections with influencers: Instagram influencer marketing is a part of paid promotion advertising. And, it's taking social media marketing by storm.
In a brief, brand owners approach the influential figures who have created an image of themselves on their followers. And, when they endorse or promote their products it gives a more human approach as compared to traditional marketing.
This strategy is very helpful for brands trying to reach their target audiences.
Pay attention to fill your feeds frequently: Feeding your Instagram posts daily creates a great impact on your loyal followers. Stop treating this powerful marketing platform as a second option.
But, keep in mind that posting frequently doesn't mean posting on the same tune. That would bore your audience. Rather you should spice up with the following tips-
Monday- Post a meme
Tuesday- Regram a customer photo
Wednesday- Promote your latest story
Thursday- Regram a customer photo
Friday- Post about your upcoming sale
Saturday- Ask followers how they are spending their weekend
Sunday- Post a product photo
Keep an eye on your competitor's plan of action: To remain in the eye of your audience, it's essential to know and understand what your competitors are up to. What kind of strategies are they planning? How frequently are they posting? What type of content is their Instagram post full with?
          All these insights can be studied through tools like Socialinsider and you can work
          moves according to that.
Give access to your business by tagging your location: Location tag lets your customer know you exist with a physical address. And they get the chance to interact with you personally sometimes, especially with those nearby your location.
It allows transparency and also more exposure. In another sense, it creates more trust.
 Pay heed to your customer's voice: It will remain one of the most important marketing strategies for Instagram Advertising. Doing a business is all about satisfying your customers.
And what a great platform Instagram provides through features like DMs and the comment section. Spare your time and fill their queries with valuable replies. Welcome their feedback as well as criticisms modestly.
It goes a long way, trust me!
So, are you planning to do Instagram Marketing for your business?
It's 100 percent YES, right? After learning the strategies mentioned above you must have understood how important this social media platform can do for your brand and the differences it can make.
And, we are always there for you with the right business solutions.